Productivity
7 Chrome Extensions to Boost Productivity
These extensions from the Google Chrome Web Store can help boost your online productivity!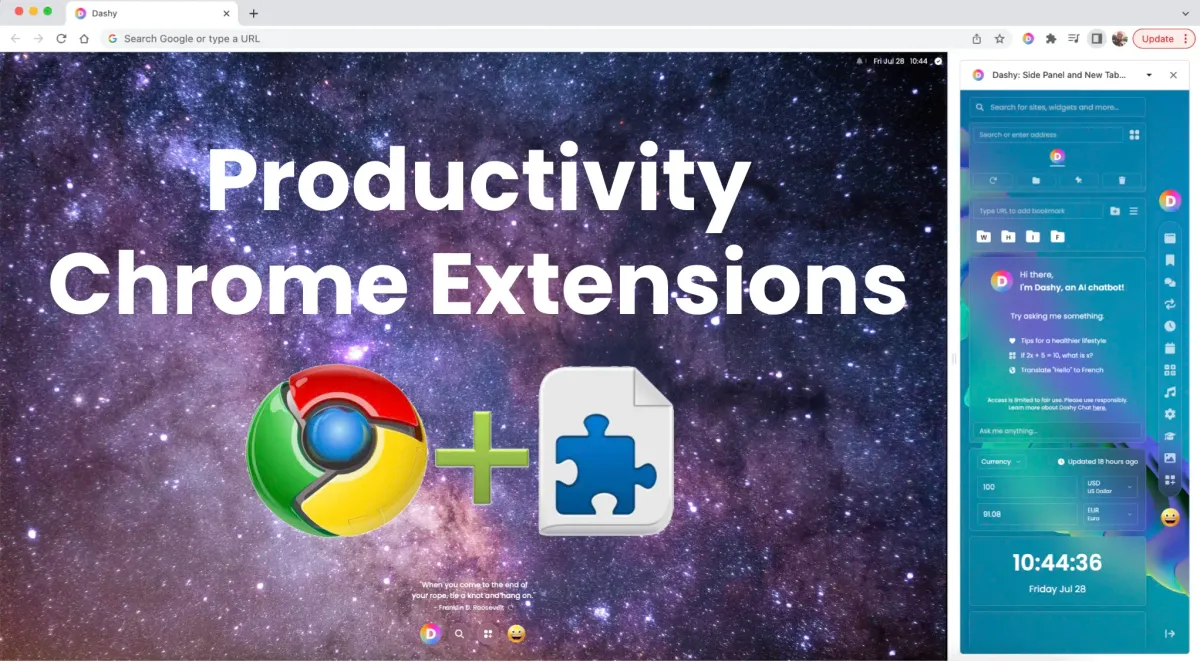 Introduction:
If you work at your computer frequently, you probably have searched for ways to improve your performance and streamline your workflow. One of the easiest and most effective ways to improve work performance is to use productivity tools. Google Chrome is a powerful web browser that is highly customizable with helpful extensions.
The Chrome Web Store provides access to over 100,000 different extensions, so finding the ones you need may seem a little overwhelming. Choosing what extensions are the best is certainly up to personal preference, as it all depends on your specific needs. You might find that an extension that focuses on a single tool might fulfill your online needs. You also might want an all-in-one type of experience that you can customize to your needs like Dashy.
Let's take a look at some productivity extensions that can boost your performance and make your life easier:
---
Todoist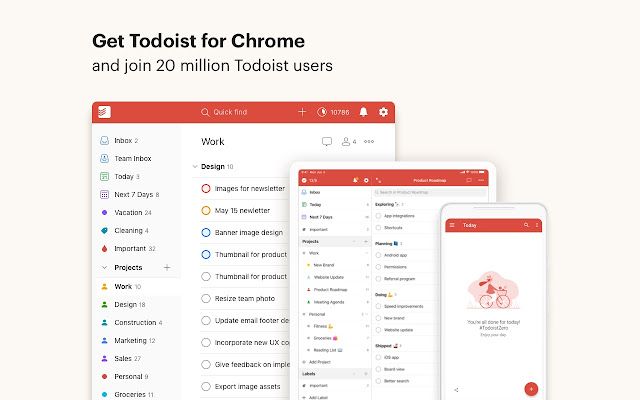 Todoist is one of the most popular To-Do list extensions available on Chrome and over all platforms it has over 25 million users. It is a highly customizable To-Do option, and lets you organize and sort your lists in a variety of ways.
The extension allows you to place an icon on your browser to quickly bring up your tasks, organize them by day or project, and check off your completions as you go about your day without having to open a new tab or window.
Many people use Google Tasks, Microsoft To-Do, and other To-Do list programs, and Todoist expands upon their features. You might want the extra features, or you might want to keep things a little more simple. Explore your options, but know that you aren't limited to whatever your browser or computer defaults to.
Download the Todoist extension here.
---
Bookmark Sidebar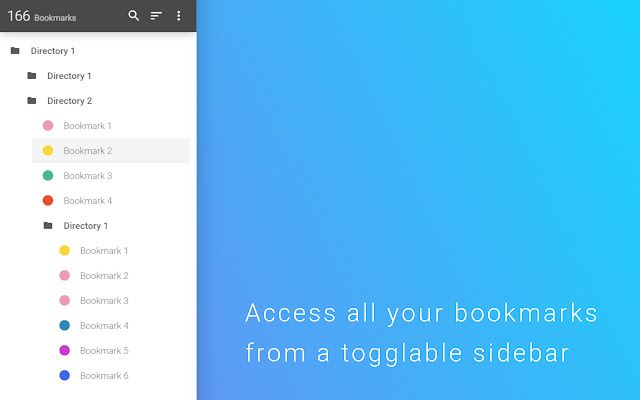 Bookmark Sidebar is a bookmark manager that can help clean up your browser by relocating your bookmark bar to the Chrome Side Panel. It also gives you a variety of methods to view, organize, and sort your bookmarks. Organized bookmarks means more efficient time browsing the web or setting up your work for the day.
This is really just an alternative way of viewing and organizing your bookmarks. Everyone has their own preference, and this format might just tickle your fancy.
Download the Bookmark Sidebar extension here.
---
Tab Manager Plus for Chrome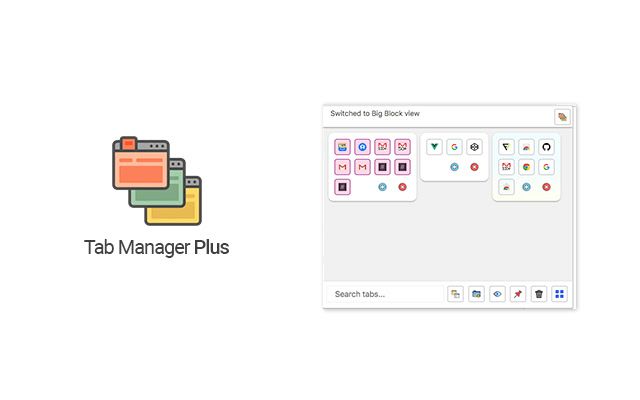 This extension is for those who really struggle with organization and have way too many tabs to handle efficiently. This tab manager provides a popup icon where you can see all of your tabs in icon view, organize into groups, search for specific tabs, and highlight duplicate tabs to help you clean up your browser.
While this tab manager doesn't have every feature, if you are helplessly overwhelmed and drowning in an endless sea of tabs, it might be the right extension for you.
Download the Tab Manager Plus extension here.
---
Momentum
Momentum is a relatively simple New Tab extension that emphasizes focus, motivation, and organization. It places a daily nature photo on your New Tab, a motivational quote, and provides access to a handful of tools like a world clock, weather, to-do, and a pomodoro timer. While this extension focuses more on inspiration than productivity, it can still be a valuable option depending on your needs.
This extension can feel a little bit gimmicky or cheesy for my taste, but many people find it to be encouraging and revitalizing. If you want a simple setup and beautiful backdrop for your start page, then Momentum might be for you.
Download the Momentum extension here.
---
Manganum
Manganum provides a number of productivity tools that can be individually opened in your Chrome Side Panel. Tools include, most visited sites, To-Do lists, Calendar, Notes, Translator, Calculator, Google Drive, and ChatGPT. The interface is relatively easy to navigate and can be integrated with a number of different apps.
Manganum includes some great apps and tools for your sidebar, but is somewhat limited in its app offerings. It is extremely helpful to be able to access your tools from the side panel while you work online, but only being able to access one tool at a time can be a bit restrictive.
Download the Manganum extension here.
---
SearchGPT for Chrome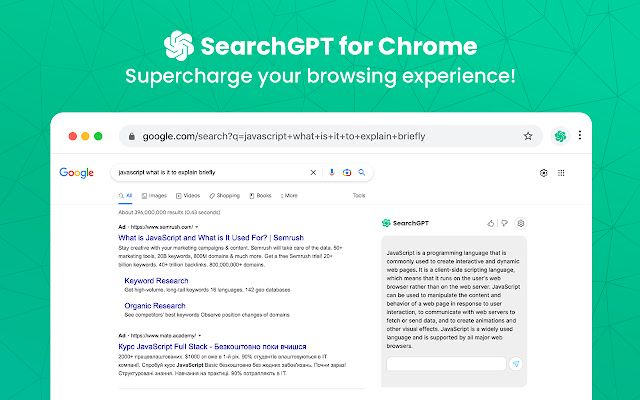 Installing SearchGPT gives users a small window alongside their Google, Bing, Yahoo, and other search engines that provides an AI generated response to any search inquiries. You can interact with the AI generated response in chat form after your search has been made. It also installs a clickable popup window for easy ChatGPT access so you can use AI whenever you need.
Download the SearchGPT extension here.
---
Dashy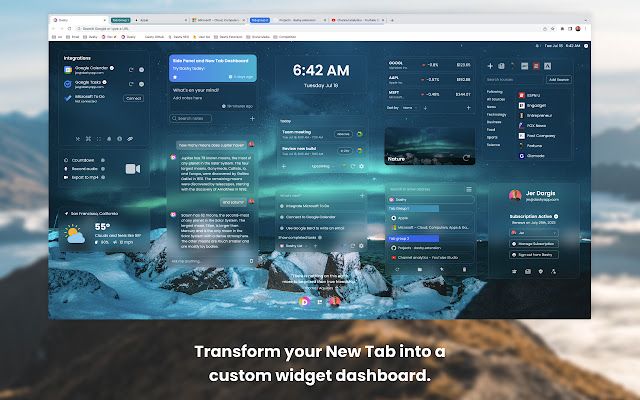 Dashy is the ultimate all-in-one productivity extension. It provides the benefits of all of these extensions wrapped up into one unique widget experience. By transforming dozens of tools and apps into interactive widgets, you can access ALL of your productivity tools simultaneously in your side panel. The extension also can upgrade your New Tab into a custom widget dashboard.
Instead of having to open a New Tab or extension for each task you have, you can just head over to your Dashy Side Panel and everything is at your fingertips.
Add whatever widgets you need to optimize your workspace. Integrate widgets like To-Do, Notes, Calendar, News, Podcasts, and others.
Use tools like Reminders, Time Tracker, Google Translate, Google BardAI, Screen Recorder, and more to boost your productivity.
Stay up to date on the latest information with Stocks, Crypto, and Weather.
Organize your browser with Bookmarks and Tab Manager widgets that seamlessly work together. (Learn more about how this can make organizing your browser extremely simple and effective here.)
Customize your backgrounds, toggle on a motivational quote, and organize your widgets however you like.
Dashy can help make your online work simple, and efficient. You can pull up the side panel and view all of your widgets at a glance anytime you need them.
Download the Dashy extension here.
---
Conclusion:
Your preferences will ultimately guide you in your decision on which Chrome extensions are right for you. We obviously feel that the customization and available offerings that Dashy provides outshines the rest, but we want you to try it out and see it for yourself! Download the Dashy Side Panel and New Tab extension from the Chrome Web Store and start your free trial! (No credit card required)
---
Join the Dashy community and see how the Dashy Side Panel can help you be more productive! Check us out on LinkedIn, Twitter, Youtube, and Instagram. Download the extension here!