Productivity
9 Chrome Extensions for Your New Tab
Explore these nine great options to turn your Chrome New Tab page into something more productive.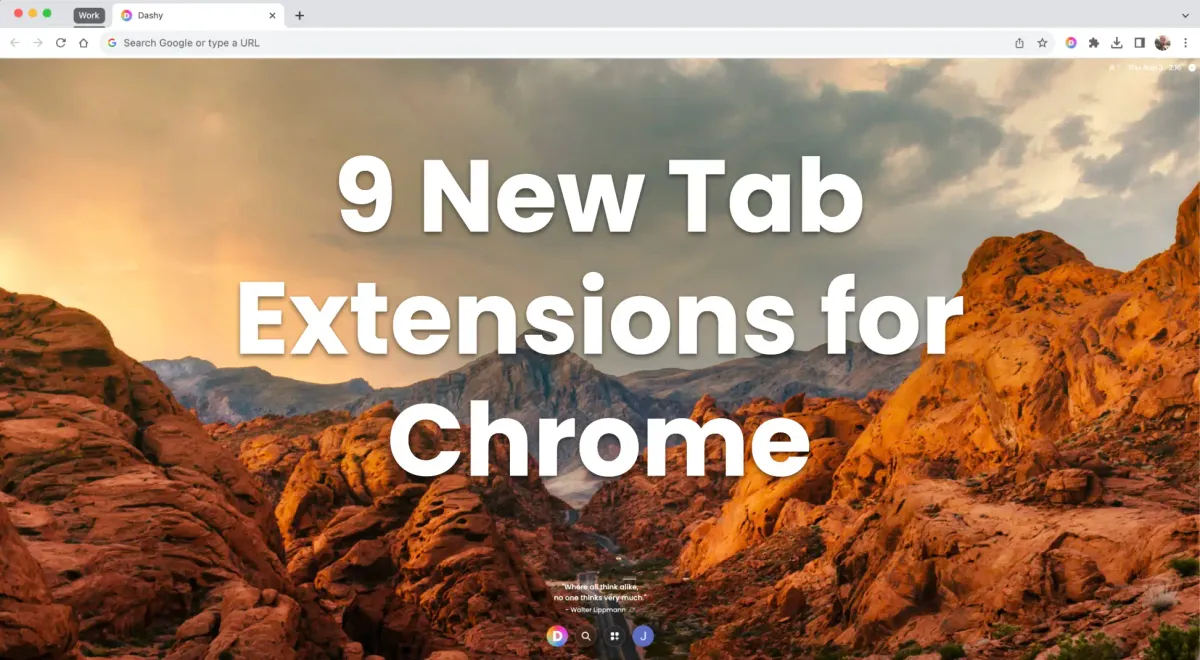 Introduction:
The default Chrome New Tab page is fine for very casual internet users, but it doesn't come close to maximizing the potential for a start page for those who spend a lot of time at their computer. Chrome allows developers to create add-on software in the form of extensions that you can download and install from the Chrome Web Store.
There are hundreds of different options to change your New Tab page into something a little different. There are extensions that emphasize focus and motivation, ones that target productivity, and others that dial in on getting you to the sites you frequent in a faster and more efficient manner. For those who are really trying to up their productivity and efficiency there are all-in-one type extensions for your New Tab like Dashy. If you're in the market for a NEW Tab, consider checking out these great extensions.
Infinity New Tab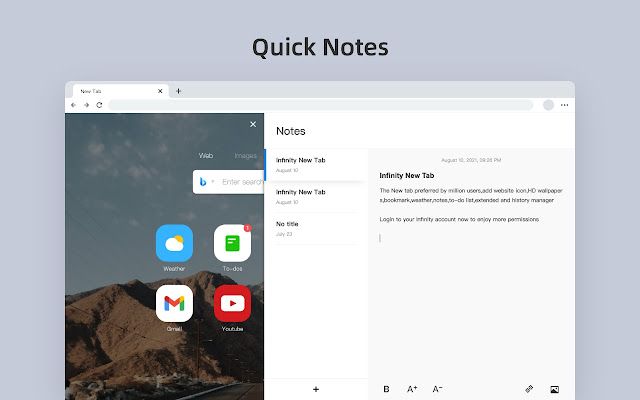 This extension stresses minimalism while still including some helpful tools to make your New Tab a better place to start your web browsing. Users can customize their background, and place a number of icons for frequented websites or apps. There are also icons for features such as Notes, To-Do, and Bookmarks which open in a sidebar for quick access.
This extension succeeds in creating a minimalist and efficient start page. The addition of the handful of productivity shortcuts is nice, but it isn't a massive improvement over the default Chrome New Tab.  
Download Infinity New Tab here.
Momentum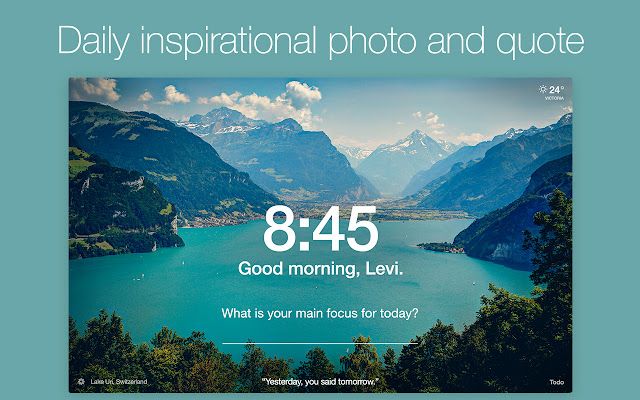 The spotlight of this extension is definitely on focus and motivation. Momentum gives users stunning backdrops and motivational quotes that both aim to inspire their users. This New Tab also has shortcuts to a few commonly used productivity tools like Notes, To-Do, World Clock, and a pretty cool Pomodoro Timer.
This extension is a very popular one, but its target audience seems to be those who don't need a whole lot of extra options or tools at their disposal. It is a simple and effective New Tab, and if your needs fall in those categories, it is worth checking out.
Download Momentum here.
Start.me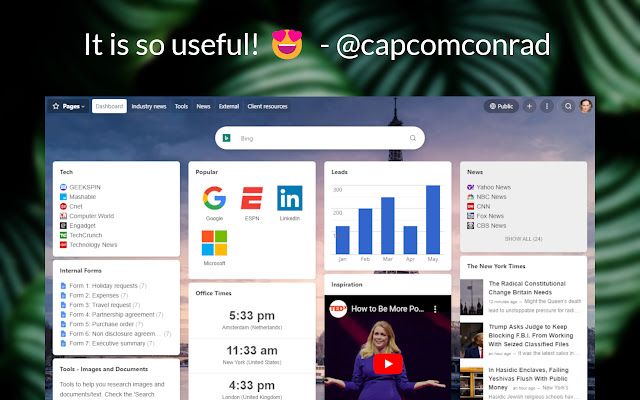 This extension starts the dive into what a New Tab dashboard can look like. Its main features include the ability to add RSS feeds into large widgets, manage Bookmarks, embed any website into a small block, and a handful of productivity tools like Notes and To-Do.
This New Tab does have a plethora of customization options so users can create a start page that fits their needs. The ability to embed sites is a handy feature, but aside from Notes and To-Do the dashboard tends to direct users elsewhere rather than create a workspace that people want to stay at.
Download New Tab by Start.me here.
Speed Dial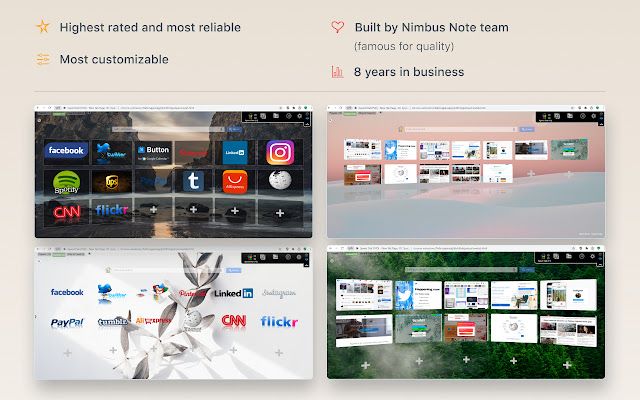 As the name would imply, the main goal of this extension is to get users to the sites and apps they use in a speedy manner. It utilizes visual bookmarks that create large icons on your New Tab so you can quickly click on the sites you use the most. It also allows you to organize your bookmarks into groups. Users can also search for specific bookmarks within the New Tab page.
The large icons are helpful if you have trouble with small text, and the interface is extremely easy to use. My main complaint is it is essentially just a different way of organizing and presenting bookmarks and little else. While it really is just this single feature, it does that job quite well.
Download Speed Dial here.
Dashy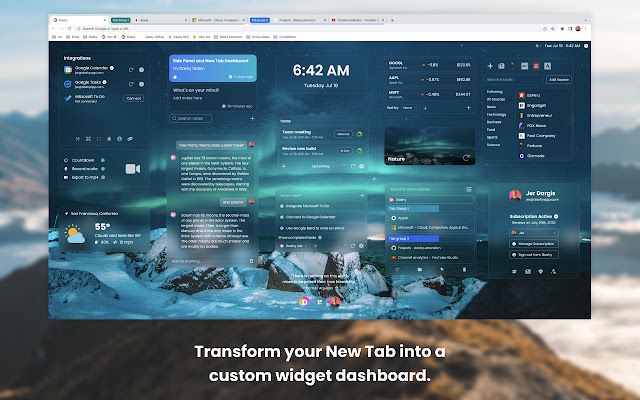 Dashy is the ultimate all-in-one New Tab dashboard. This extension provides users with 28 productivity tools and apps in widget form, and is constantly adding more. Users can add whatever widgets they need, organize them how they like, and access all of them simultaneously without having to open things in new screens. This means you can view your Calendar, your To-Do list, access Google Bard AI chatbot, see your News headlines, view Stocks and Crypto prices, all at the same time from the same screen. Check out the full list of currently available widgets below.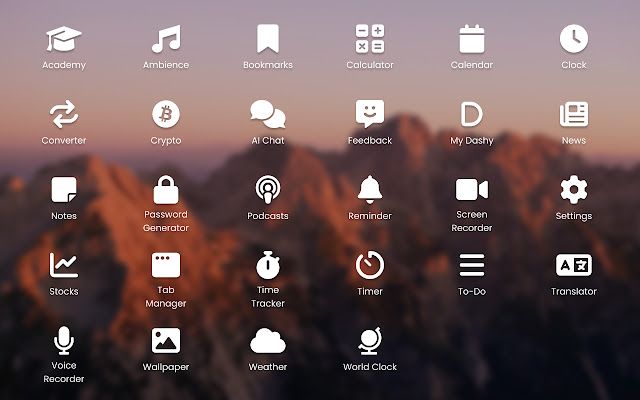 Many Dashy widgets can be integrated with the programs you already use as well! For example: To-Do lists can be integrated with your Google Tasks account, your Microsoft To-Do account, and coming very soon you will be able to integrate your Todoist account.
Dashy also can be customized in a variety of ways and includes all of the customization options of the competitions. Choose a background from the massive library within the Wallpaper widget, or add your own. Change the size of your widgets and relocate them to anywhere on your screen. Make them transparent or solid in color. Turn on light or dark mode to put your eyes at ease. Change the font of text on the dashboard, add an inspirational quote, show the date and time, and many other toggle-able options.
The Dashy extension not only gives you an incredible widget dashboard for your online workspace, but it also provides you with a companion Side Panel dashboard so you can quickly access your widgets from anywhere online with the click of the mouse. This Side Panel seamlessly syncs with your New Tab dashboard, so you can use one, the other, or both anytime you like.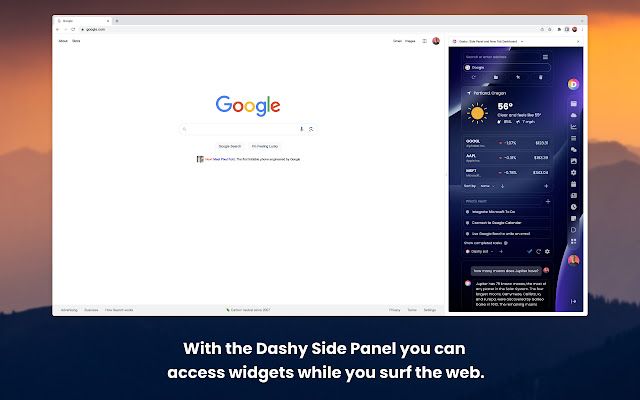 Download Dashy: Side Panel and New Tab Dashboard here.
Infinite Dashboard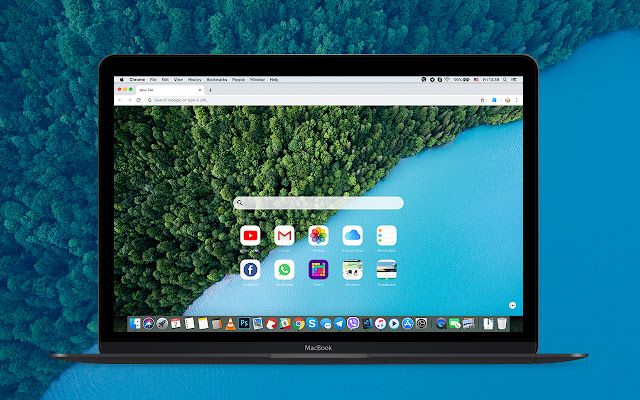 This extension has more features than many of its competitors, and includes Bookmarks, Apps, Games, To-Do, Notes, links to all sorts of different Google programs like Calendar, as well as Sessions which lets you pick up where you left off in your browser.
The features that this extension has are great, but you have to swap between different screens within your New Tab to navigate. For example, opening your Calendar or To-Do list overlays the screen, so you can really only access one thing at a time. It is really useful to have so much available in your New Tab though.
Download Infinite Dashboard here.
Leoh New Tab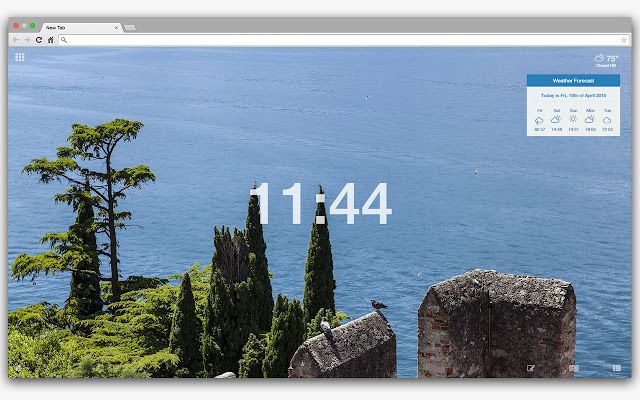 This one is strikingly similar to Momentum, and uses a minimalist design and a handful of useful features to upgrade your New Tab. It focuses on aesthetics, and produces a very striking homepage. It includes landscape backgrounds, Weather, To-Do, Calendar, and Quick Links to your most viewed pages.
I won't dive into this one too much more, but it is a viable alternative to Momentum.
Download Leoh New Tab here.
Homey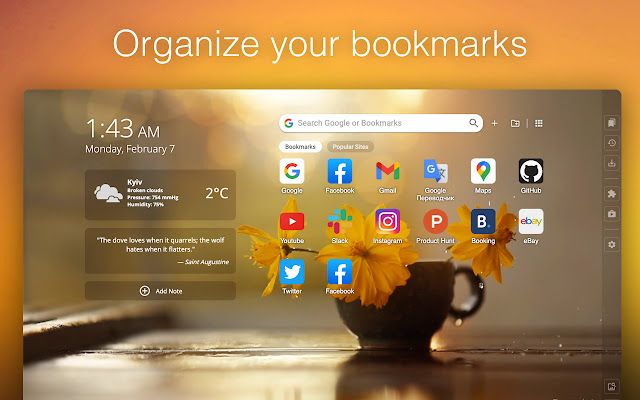 Homey has a large library of background options so you can customize your New Tab. It also utilizes widgets so you can use some tools without having to navigate elsewhere, though their widgets are limited to Weather, Notes, Inspirational Quotes, and Reminders. As many others, it features a Bookmarks Manager.
This extension really focuses on customization with different themes and backgrounds. It is simple and effective, but lacks a lot of productivity features provided elsewhere. It sticks with its branding as it is trying to create a "homey" kind of feel for your New Tab.
Download Homey here.
uTab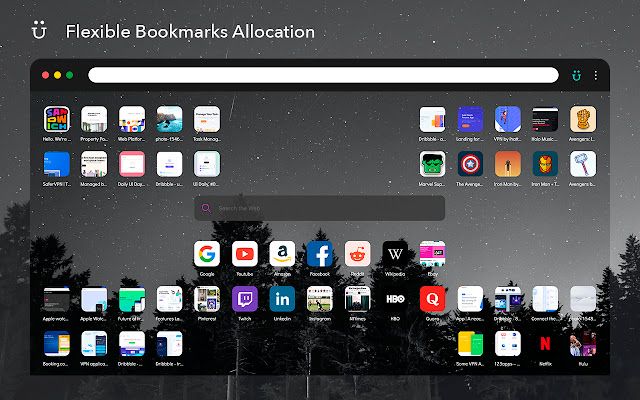 This extension is fairly similar to Infinite Dashboard as it really focuses on creating a visualization of your bookmarks. You can organize them into groups, and add as many as you like. This is aimed at people who just want an easy-to-view icon type setup for their bookmarks so they can quickly navigate the web.
Download uTab here.
Conclusion:
You have loads of options for your New Tab, so don't settle for the Chrome default page. There is an extension out there that fits your unique needs, and it is up to you to decide which one that is. We would love for that New Tab extension to be Dashy, so we offer a free trial to new users with no credit card required. Download the extension from the Chrome Web Store today and experience endless productivity!
---
Join the Dashy community and see how the Dashy New Tab dashboard can help you be more productive! Check us out on LinkedIn, Twitter, Youtube, and Instagram. Download the extension here!