Dashy
Dashy v1.6 Bookmarks Improvements
Dashy v1.6 includes a number of improvements to the Bookmarks widget, minor fixes, and an annual subscription option.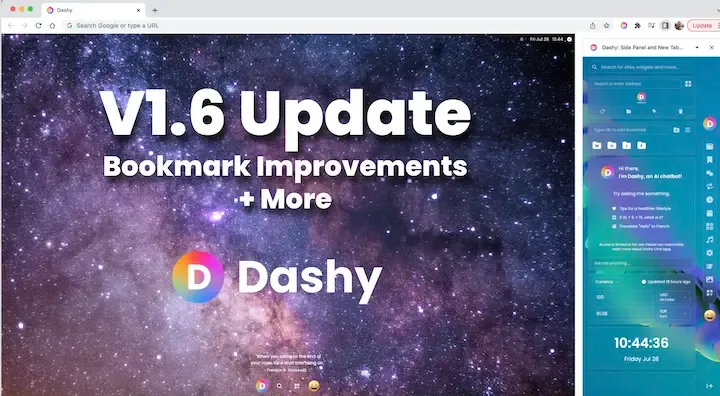 Download the Dashy Chrome extension from the Google Chrome web store.
Introduction:
With the latest build of the Dashy Chrome extension we have revamped and improved the Bookmarks widget. The update also includes a number of user interface improvements that are working behind the scenes, but should make the extension run even smoother for users. Let's take a look at the big changes made to Bookmarks.
Bookmarks Improvements:
The first thing you may notice with the Bookmarks widget in v1.6 is that it automatically syncs with your Chrome bookmarks. The bookmarks you place into Dashy will show up in your Chrome bookmarks, the folders you have organized them into will sync with your browser, and vice versa. This seamless integration means your browser will be even more efficient and user-friendly.
The second update to Bookmarks is the ability to make folders inside of folders. If you're anything like me, you have a lot of sites to keep track of, and organization is key to maintaining your productivity. You are now able to make a folder for something like "Work," then have folders inside of that to compartmentalize the different aspects of that subject. This helps keep your Bookmarks widget from getting overcrowded or overwhelming.
It is important to remember that the Bookmarks widget can be used hand-in-hand with the Tab Manager widget. Simply drag a folder into the Tab Manager to instantly open all of those sites in a labeled Group.
We feel that these updates will help keep you more organized and productive than ever. Let us know what you think, and reach out to tell us what updates you want to see next through the Feedback widget!
Other Improvements:
We have fixed a number of minor bugs that should prevent some oddities from happening when using the extension. These are things that you probably would never encounter, but with the amount of testing we undergo we always find something to improve or fix.
Annual Subscription Option:
Once your free trial of Dashy expires, you can continue to use the limited Dashy Free option, or choose to subscribe to Dashy Pro. We offer a subscription for $5/month, and have just launched an annual option which comes in at $50/year for some additional savings. Open My Dashy and click "Upgrade to Pro" to subscribe.
---
Join the Dashy community and see how the Dashy Side Panel can help you be more productive! Check us out on LinkedIn, Twitter, Youtube, and Instagram. Download the extension here!