Dashy 3 Month Update - 4k users
4,000 users, Edge store launch, Anonymous login, Microsoft Outlook calendar integration, and more!
Dashy hit 4,000 users, version 3.0 is live and Dashy has officially been available as an all-in-one extension for: Chrome, Firefox, Brave, and now Edge for three months.
Our first month update included new widgets: Translator, Tab Manager, and Todoist, and we launched Dashy as a Firefox add-on.
In our second month we gave users the ability to embed any websites they want directly into their Dashy and we added the functionality to create duplicate widgets. That means if you need to see 37 different calendars at the same time, now you can.
We want to thank you for being a part of the Dashy journey, here's what has changed over our third month.
Dashy in the Microsoft Edge store:
Microsoft approved the Dashy add-on in late September, in two weeks we've managed to reach 256 users. So if you prefer Edge to Chrome or Firefox, here's your link. Please note that the side panel is not enabled in Edge. This is a limitation of the Edge browser that has not been addressed by Microsoft just yet. We will obviously include it when they make the necessary changes.
Anonymous Login:
Every day there are some people who download Dashy and then uninstall when they see the login option, which is required to sync your Dashy profile settings across multiple browsers and devices. To address this, we added the ability for users to create an anonymous Dashy without logging in with an email address.
After creating an anonymous account to try out Dashy, you can enable syncing by simply connecting with a Google or LinkedIn account. The choice is yours, to sync or not to sync.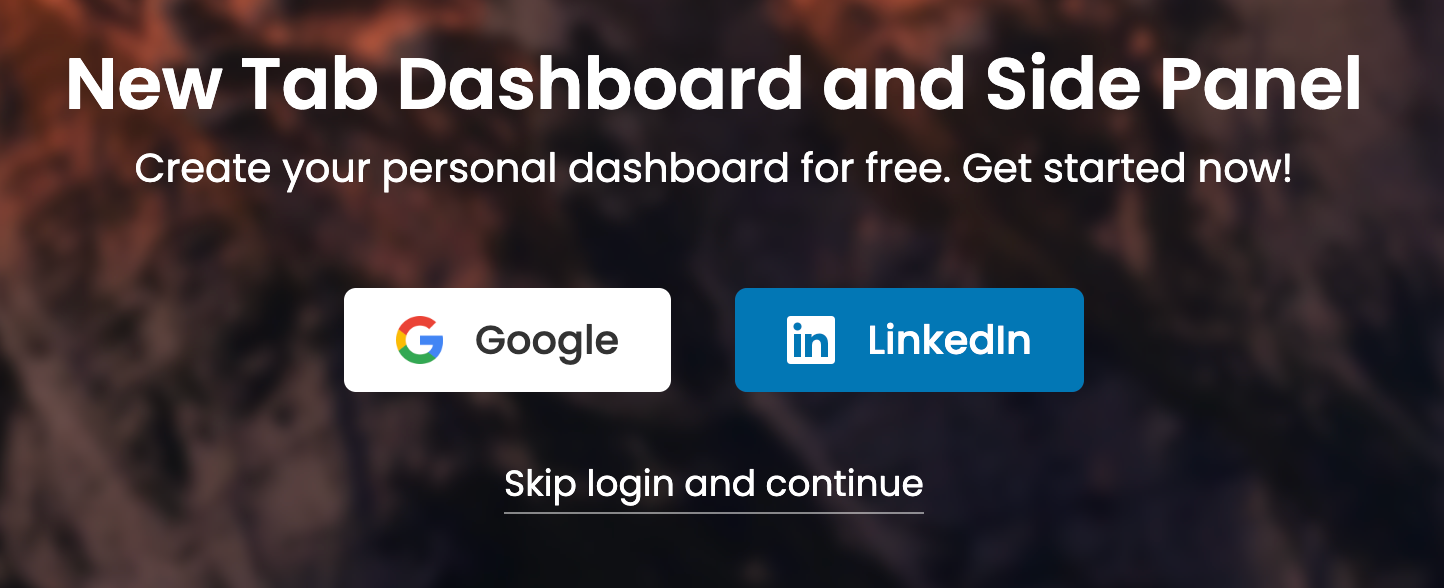 Microsoft Outlook Integration:
Do you use Outlook for your daily meetings? We've got you covered. Dashy now has a Microsoft Outlook widget ready and waiting to help you manage your day with every new tab. Need access to multiple calendars? No problem, just hit the handy Duplicate icon and go ahead and setup a second calendar, or a third.
More Websites Added:
As requested, we have added the following sites to Dashy: Spotify, Google Contacts, Keep, Passwords, Messages, and Poe. If you would like quick access to a specific site you can always create a custom widget in your Dashy, or you can contact us through the Feedback widget with the site you think other Dashy users will enjoy using.
Growth:
On October 10, exactly 3 months after our launch Date of July 10, Dashy reached 4,000 weekly active users in the Google Chrome store. Thank you to the community for your positive reviews in the store, this helps us reach a broader audience on our march to 10,000 weekly active users.
Improvements to your Dashy experience:
Introduced widget snapping for easy customization and alignment - Toggle this feature on or off in the Settings widget
Ability to arrange widgets vertically and horizontally - Right click menu
More backgrounds - Unsplash integration means you might never see a duplicate image again
iFrame improvements - Ability to use the microphone, and camera within iFrames for any supported website.
Calendar widget - Now you can add attendees, a location, and also create repeat events. We also added an Events details view to get more info about an event.
Bookmarks widget - Ability to change the parent folder and now bookmarks open in the same tab you are currently viewing
Widget toolbar options for Pin and Academy have moved - Right click menu
What's Next?
Dashy is coming to Microsoft Edge store very soon as an available extension! This means you will be able to access Dashy on Chrome, Firefox, Brave, or Edge. We are also working on more widgets, more integrations, and continuing to improve the user interface.
We are incredibly excited about what our next month has in store, and we hope you come along for the ride!
---
Try Dashy today and turn your boring homepage into a stunning new tab dashboard! Check us out on LinkedIn, Twitter, Youtube, and Instagram. Download the extension here!