Dashy
Dashy 2 Month Update!
Find out some of the BIG changes we have undergone in month 2 of Dashy.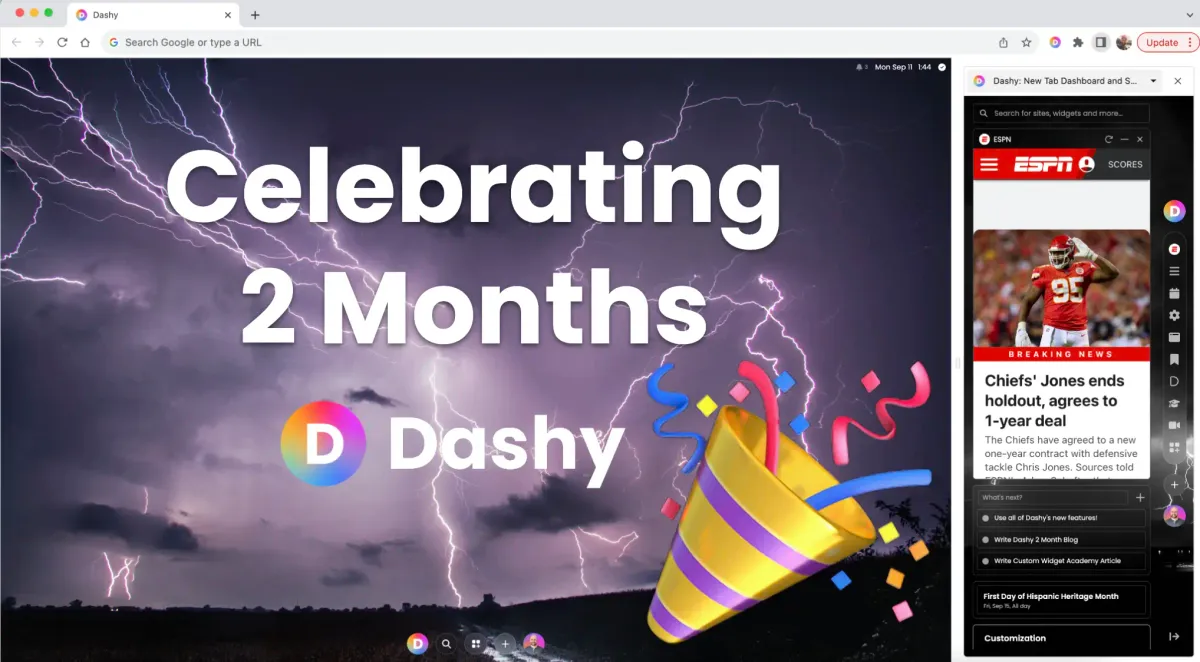 Dashy has officially been available as an all-in-one extension for Chrome, Firefox, and Brave for two months. Our first month included a plethora of updates and improvements, and this month we also made some massive strides and changes. We want to thank you for being a part of the Dashy journey, and want to make sure you are caught up on what has changed over the last month.
If you don't have the Dashy extension currently, download it here.
Embedded Websites:
Our biggest update to date has been the ability to add embedded websites to your Dashboard and Side Panel. We have included options to add numerous social media websites like FaceBook, Instagram, LinkedIn, Reddit, and Slack, popular sports pages like ESPN, productivity websites like Google Drive, GitHub, Google Meet, and academic research sites like Google Scholar and JSTOR. You can easily add your own custom websites as well, so customizing your experience is better than ever.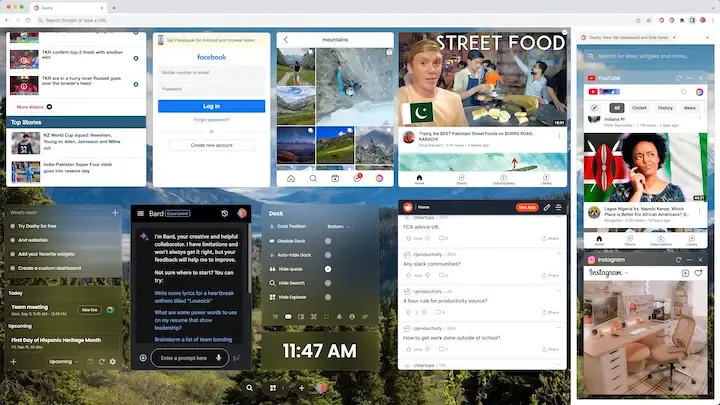 Duplicate Widgets:
Duplicate widgets have also made their way to Dashy, and you now have the ability to integrate multiple Calendars, To-Do lists, and organize them how you like. Along with this, we have added an option to place a search bar powered by Google and their AI in your dock and your Side Panel.
Growth:
If our first month of growth was good, our second month was outstanding. Users from tech hubs and college towns spanning multiple continents have been flooding in to see how Dashy can help improve their time spent online. We have reached over 1k active users through the Chrome Web Store, and we are eagerly working towards breaking our next goal of 10k weekly users.  

What's Next?
Dashy is coming to Microsoft Edge store very soon as an available extension! This means you will be able to access Dashy on Chrome, Firefox, Brave, or Edge. We are also working on more widgets, more integrations, and continuing to improve the user interface.
We are incredibly excited about what our next month has in store, and we hope you come along for the ride!
---
Join the Dashy community and see how the Dashy extension can help you be more productive! Check us out on LinkedIn, Twitter, Youtube, and Instagram. Download the extension here!