Dashy
Official Integration: Dashy and Todoist
Dashy has added the Todoist widget to your custom New Tab and Side Panel, and is now an official integration on the Todoist site!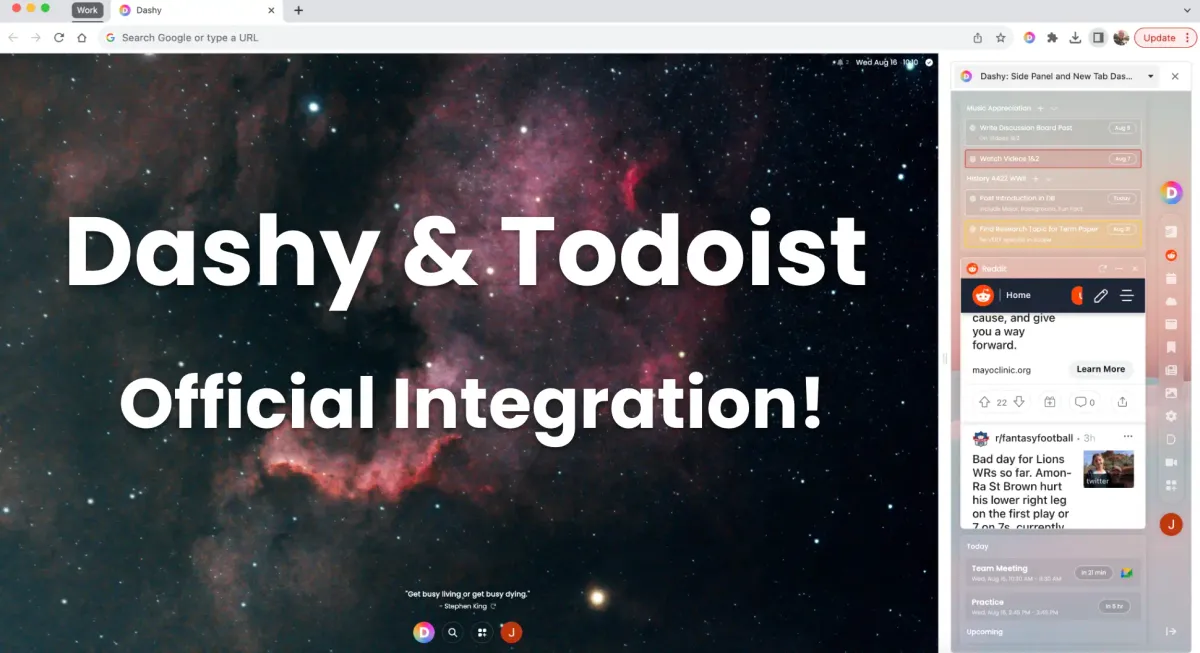 Official Integration:
We are so proud to announce that Todoist has made Dashy an official integration of their amazing product. Todoist is the internet's premier to-do list application and service, and they strive to provide an interface that allows their users to stay on task, organized, and more efficient than otherwise possible. Dashy shares those same objectives with our all-in-one extension, so this integration has been a goal of ours from day one.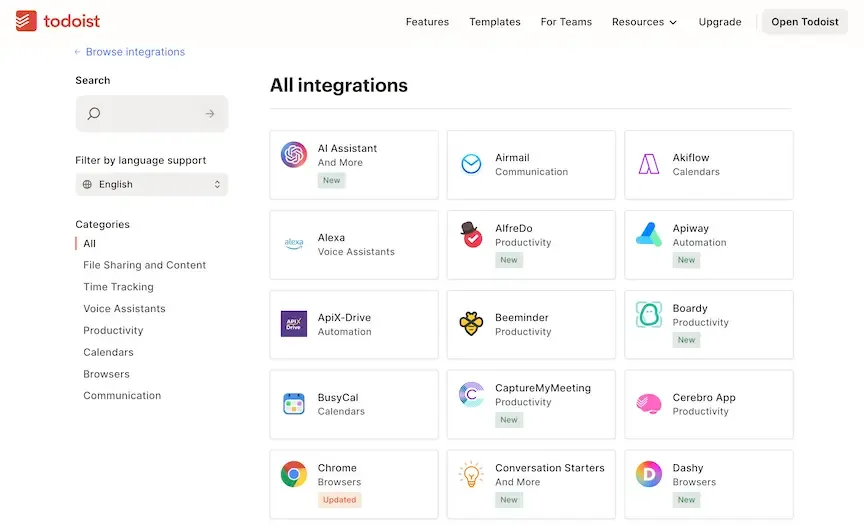 When we started Dashy, we knew that people seeking out productivity applications and extensions needed and wanted a To-Do list. We created our own widget to create, manage, and complete tasks, but we also knew that 30+ million people use Todoist. We want our users to be able to have access to as many options as possible so they can create their own custom workspace, so we started working on a Todoist integration.
We spent a lot of time and effort creating the Todoist widget within Dashy so users can utilize their Todoist Projects, Sections, Tasks, and Subtasks within our extension. Users who love the organizational options that Todoist provides can now access their Todoist lists from their Side Panel, Sidebar, and New Tab dashboard. To learn more about the Todoist widget click here.
About Todoist:
Todoist is an online To-Do list program that allows users to create different lists based on the project they are working on. From here, you can also create different Sections for each aspect of that project that you are working on. Each Subject can have their own unique Tasks and Subtasks, so you can compartmentalize every aspect of your work and keep track of your unique goals for each workday.
Todoist also provides the option to designate priority to different tasks so you can highlight what you need to focus on.
To-Do list applications and programs like Todoist aren't just for work, you can utilize them to organize any aspect of your life. So try out the Todoist widget in Dashy today and start organizing your work, school, play, and life!
What is Dashy?
Dashy is a customizable canvas that allows users to choose dozens of productivity tools and apps to add to their New Tab and Sidebar as interactive widgets. Dashy users can quickly access their Calendar, To-Do lists, manage Bookmarks and utilize our powerful Tab Manager, monitor Stocks and Crypto, view News and listen to Podcasts, and so much more!
In a few days we will also be adding the amazing feature of embedded websites. We have included 20 fantastic widget-like frames to view social media sites like Instagram, Facebook, LinkedIn, Reddit, and Slack. Along with our 15 other standard offerings, you can add whatever website you want with our customization options.
With all of this at your fingertips, you can create the ultimate web browser New Tab and Side Panel/Sidebar!
---
Join the Dashy community and see how the Dashy extension can help you be more productive! Check us out on LinkedIn, Twitter, Youtube, and Instagram. Download the Chrome extension here!