What is Dashy?
Intro:
Online productivity is something that millions of people around the world seek out, and in the technology workspace, it is incredibly competitive. Dashy is a browser extension that encapsulates a wide array of what other extensions have gotten right, but combines them into one extension that can provide value to anyone who spends a lot of time at their computer.
What is Dashy?
Dashy is an all-in-one type of productivity application. It transforms your New Tab into an interactive dashboard, and your Chrome Side Panel or Firefox Sidebar into a scrollable companion. With these customizable workspaces, users can add integrated widgets like Todoist, Google Calendar, ChatGPT, Google Bard, Google Drive, and many others. Incredibly helpful widgets like our Tab Manager and Bookmarks make setting up your browser a breeze.
Dashy also provides its users with the ability to add embedded websites into their dashboard and Side Panel. Dashy includes the capability of adding embedded social media sites like Facebook, Instagram, Reddit, LinkedIn, and communications websites like Slack.
Download the Chrome extension here.
The Birth of Dashy:
Dashy was born from an idea that stemmed from a problem that has plagued the office for years. At its core, the issue was inefficiency and worker overload from having way too many tabs open in their browser to get their work done. The idea was that if all of your tools and apps that you use on a daily basis could be added, arranged, and integrated in one space, users could get more done with less open tabs.
Our CEO Jer, and our CTO Ash worked for years in the tech field and witnessed and experienced that problem all too often. They banded together to design and create a product that would fix the problem, and after nearly two years of work Dashy launched in the Chrome Web Store.
We initially focused directly on the goal of creating a customizable productivity canvas, but soon realized that while many people wanted to focus on work, there were others who would want to simply optimize their browser for enjoyment. That is when we decided to shift our attention from more widgets and integrations towards adding the ability to embed websites.
This addition opened endless possibilities for customizing Dashy. You can create a productivity workspace, or a playground filled with social media feeds, YouTube videos, or whatever you wish to add to your dashboard. Take a look at what a customized dashboard can look like with widgets and embedded websites: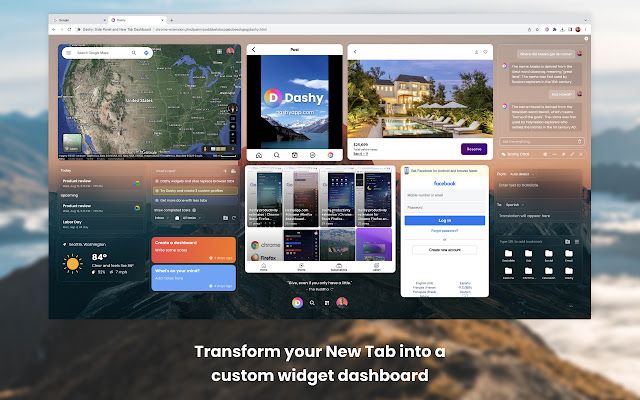 For a closer look at the conception and creation of Dashy, our CEO wrote his inspirational story here.
The Industry and Competitors:
As stated previously, Dashy seeks to build upon what others have done and improve the user experience. We looked at what competitors like Momentum, Manganum, Start.me, and others got right, and tried to combine and improve upon what they have achieved. People all across the globe are looking for more out of their web browsers, and these companies have tapped into that market in their own niche ways. For a deep dive into other productivity Chrome extensions click here.
Momentum creates an inspirational type of New Tab that includes a handful of customization options and productivity integrations. Momentum focuses on motivation and a simple aesthetic, and it proved that millions of people wanted something more from their New Tab.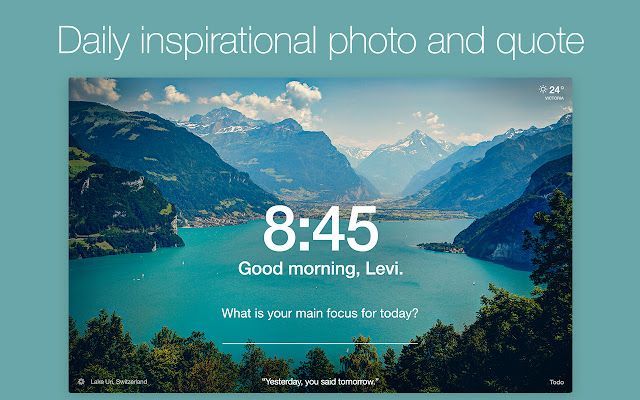 Manganum was one of the first extensions to realize the potential of the Sidebar. They place productivity tools within the Sidebar so that users can access these tools from anywhere on the web. They include some of the most used tools like Calendar, To-Do, Bookmarks, and quick links to frequented websites. The main drawback is a lack of customization options and users cannot use multiple tools at the same time. The product is excellent, but we wanted users to be able to customize and utilize everything that we offer simultaneously so that they can create the setup that works for their specific needs.
How Dashy is Changing Lives:
The world we live in is becoming increasingly digital. More people are online than ever, and those people are spending more time online than in the past. Dashy is transforming its users' online life in a positive way. It allows them to consolidate their online life into a single space and provide them with quick access to everything they frequently use.
Instead of flipping through tabs, opening programs, and having multiple windows open, Dashy allows users to have their tools, apps, and websites in a dashboard and/or sidebar for an efficient, simple, and fun online experience. People value their time, so speeding up the work they need to do online provides them with more free time to allocate elsewhere if they desire.
The Dashy Team:
Dashy was conceptualized by our CEO Jer, and our CTO Ash. While they live on different continents in very different cultures, they developed a close friendship while working in the corporate tech world. They both shared a vision of creating something for themselves that would provide some relief from the seemingly endless grind of working for a large company, so they set out to create something of their own.
Somewhere along the line they decided that they needed to add another member to the team to fill a hole that neither were particularly suited for. They decided to bring on Jacob to help take care of written content, communications, and most text related aspects of Dashy.
One of the most important facets of our team culture is involvement. We all participate in the testing process, idea generation, and collaborate to make decisions on direction and approach. Each of us brings a unique perspective, and together we work to find the right solutions to hurdles we face.
With the team spanning from the Pacific Northwest, to India, and Alaska, remote communication and work has been paramount to the early successes Dashy has achieved.
We all use Dashy every day while we work to expand, improve, and test our product. We spend many hours each day at our computers, and have experienced first hand how much easier Dashy makes our daily work.
You can learn more about the Dashy team here.
Moving Forward:
Dashy has made considerable progress in its first few months as a Chrome, Brave, and Firefox extension. We have seen our user base rise from a modest collection of early adopters to over a thousand unique accounts. We have users across 6 continents (waiting on you Antarctica), and our growth has been largely organic to this point.
One of the key components of our early success has been customer feedback. We have experienced a fantastic level of consumer interaction and ideas for us to implement, and we have even built specific features such as the Todoist integration based on a request from one of our users from Poland.
The Dashy team is constantly working to make our product the premier all-in-one browser extension, and we can only achieve that goal by providing our users with what they want. Dashy has a Feedback widget that allows users to reach us with any ideas or issues at any time, and we are always looking forward to customer exchanges.
For a closer look at what we are working on, check out our roadmap for future features here.
New users can sign up for a free trial when they download the Dashy extension to experience how they can simplify and enhance their time spent online.
---
Join the Dashy community and see how the Dashy extension can help you be more productive! Check us out on LinkedIn, Twitter, Youtube, and Instagram. Download the extension here!